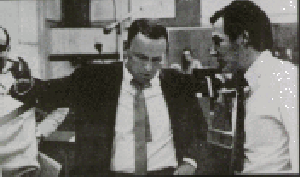 Sinatra and Antonio Carlos Jobim

Bossanova was born from the combination of Jazz and Brazilian music in 1958. Sinatra got well with Antonio Carlos Jobim from Brazil in the middle of 1960's. Jobim is the real parent of Bossanova.

It was not Jobim's work, but around that time the theme of French movie "D'Orphee" which was Bossa like was popular all over the world as the meaning of the Portuguese word "Bossa".

"The Girl From Ipanema" is too good for Bossanova lovers. Sinatra and Jobim sang in a duet; Sinatra in English and Jobim in Portuguese.

Jazz and Brazilian music get along together. Maybe it's because both have the same blood of the black slaves, who were taken from Africa.