Of course, as in Japan where the ancient name was ukiyo-toko, meaning life's alcove (barber shop in present day Japanese is toko-ya, toko meaning alcove), barbershops all over the world are places where people gather so the name of this type of chorus actually comes from barbershops. There were times when every barbershop in the US boasted a quartet.
A specific singing style of male quartets came to be called by this name, and there are associations of barbershop choruses all over the world, but according to these members, they state in no uncertain terms that barbershop chorus and jazz chorus are two entirely different things. Also, a cappella is the rule, singing without instrumental accompaniment. It is correct to think that the chorus of the Mills Brothers differs from barbershop choruses per se.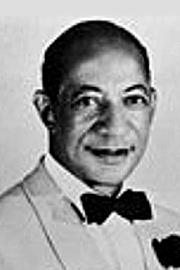 The sons of John Hutchinson Mills Sr. (1882-1967) grew up hearing their father's barbershop chorus from the cradle. The four brothers are the following.
John Mills Jr. (1910-1936)
Herbert Mills (1912-1989)
Harry Mills (1913-1982)
Donald Mills (1915-1999)
Donald joined his brothers and started singing with them when he became 7 years old. This is the beginning of the Mills Brothers. Some books list the start of the chorus as 1931, but this is the year that they went to New York and recorded their songs for the first time. Around the end of the 1920s, their songs were aired by Cincinnati Radio Station. The photograph above was taken about the time they started singing together, probably in 1922. From the left, the eldest, John Jr., the 2nd, Herbert, 3rd, Harry, and the 4th, Donald, all in a row. They continued to sing for over 60 years, but Donald died last in 1999.
The Mills Brothers sang along the line of barbershop choruses, but added swing, which had become popular at that time, to their songs, and established a type of Jazz chorus which made them famous. They call themselves, "Barbershop Swing Chorus."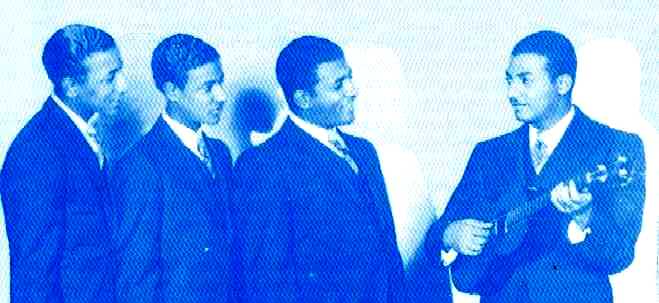 The Mills Brothers 1931
There is no swing chorus as warm as theirs. It may sound like simple harmony, but on the contrary, the use of 6th and 9th chords and tension harmonies in a rustic but effective way makes their sounds modern and fresh, even now. In their early days, they used in place of a trumpet, an instrument called Kazoo, which had paraffin pasted across so it would make a buzzing sound when blown (like a toy), but one day, they forgot to bring it along. So, Harry blew into his hands to imitate, rather than the Kazoo, a trumpet. Talk about necessity being the mother of invention.