Lee Konitz, Jazz Saxophonist Who Blazed His Own Trail, Dies at 92

He was a pioneer of the cool school, but he resisted pigeonholing and focused on "making a personal statement." He died of complications of the coronavirus.

From left, Miles Davis, Lee Konitz and Gerry Mulligan in a 1949 recording session. Mr. Konitz's work with the Miles Davis Nonet early in his career helped establish his reputation.Credit...PoPsie Randolph/Michael Ochs Archives, via Getty Images

By Peter Keepnews
April 16, 2020
Lee Konitz, a prolific and idiosyncratic saxophonist who was one of the earliest and most admired exponents of the style known as cool jazz, died on Wednesday in Manhattan. He was 92.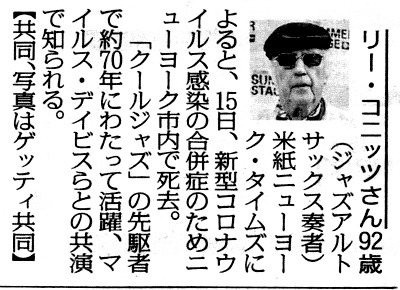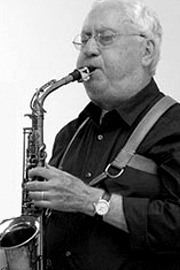 毎日新聞 4月19日朝刊         
また、コロナウイルスにより老人ジャズミュージシャンが倒れた。バッキ―・ピザレリがやられたばかりだ。
新聞にもあるように、Cool Jazzの先駆者などと言われているが、本人はあまり喜んではいなかったということだ。確かにより多方面の試みをして来たと言える。CoolどころかWarmな音が聞こえる。