Dolly Baker told me that there are two methods in tap dance, 'rehearsed tap' and 'Jazz tap'. Rehearsed tap is decided the course how to dance, but Jazz tap is dancing free like ad lib of Jazz players. It's very reasonable that Dolly likes Jazz tap. Recently, there is a good Jazz tap dancer in Japan and perform together at her live. She says happy.
His name is Takahide Kawamura and they are playing at Body & Soul, Minami Aoyama or Key Note of Harajuku.
I wrote above sentence in 1999 at the page of Sammy Davis Jr. in my Jazz Site.
ŸŸŸŸŸ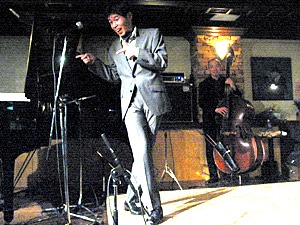 Takahide Kawamura
I received an e-mail from Takahide Kawamura on July 3, 2012. I was so surprised. I almost forgot in which page I wrote about Takahide's Jazz tap. Yes, I found it.
Takahide found my Jazz Site several months ago and he said he was surprised finding his name and Dolly Baker in my page.
He will have a live at Buddy, Egota Tokyo in October. I will go to Buddy to see him. And I will send this story to Dolly in Boston.
What a plesant night tonight is!. Well, I will write him a message from now.i2012/7/3j
Λ@Official SIte of Takafumi Kawamura
ŸŸŸŸŸ