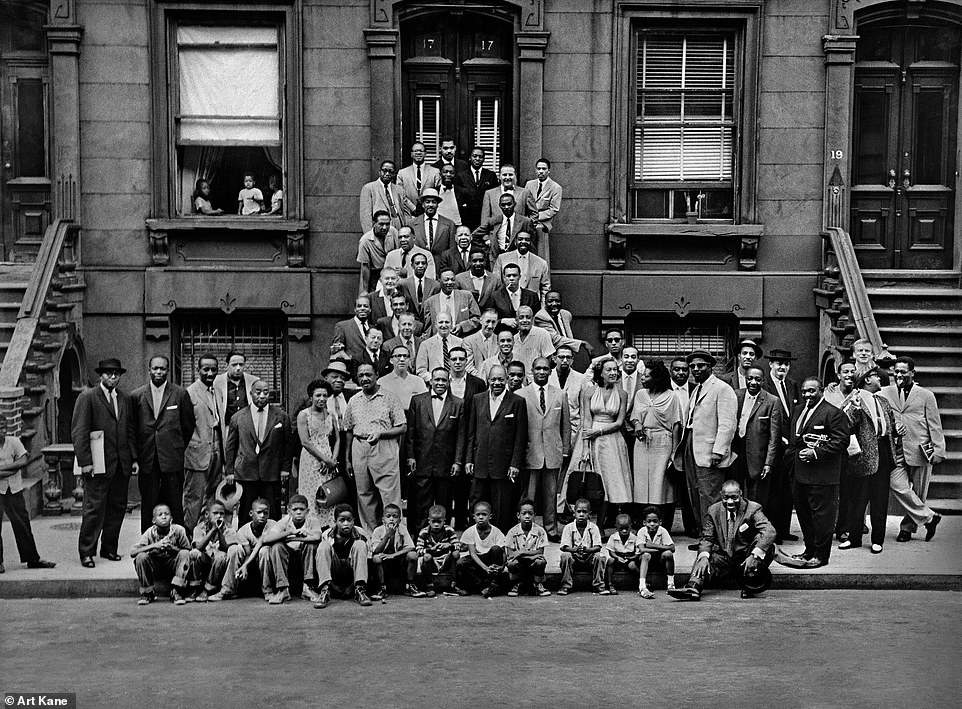 Acclaimed photographer Art Kane went to great lengths to gather together 57 of the biggest names and talents in jazz for a photograph in Harlem in August 1958, which eventually ran in Esquire magazine in January of the following year.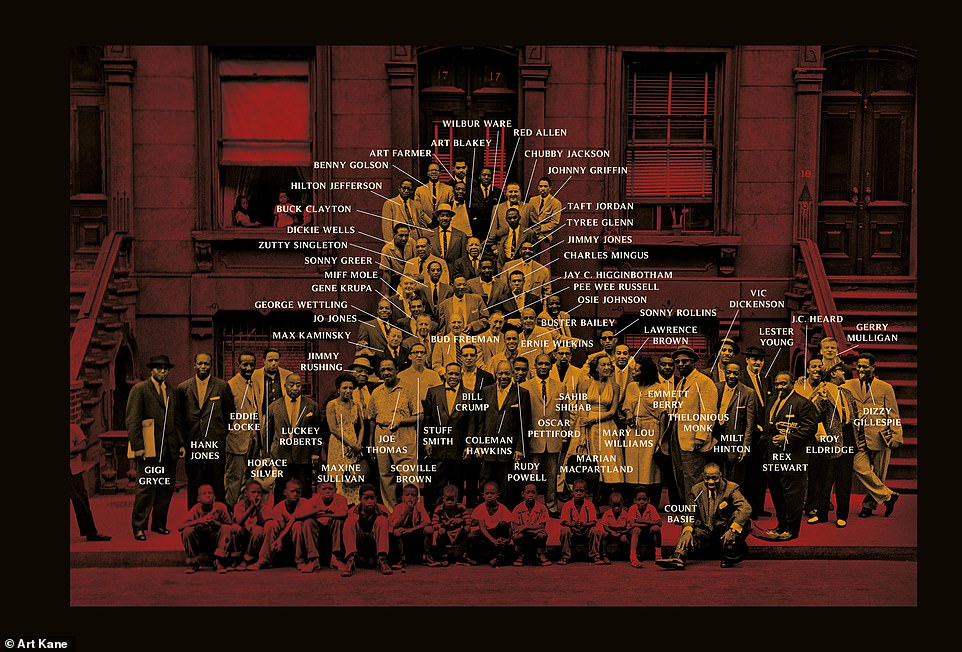 Kane sent out requests to everyone from managers and agents to labels to get all the artists together in one location; some of the renowned talents included Dizzy Gillespie, Gerry Mulligan, Taft Jordan, Marian McPartland and Mary Lou Williams.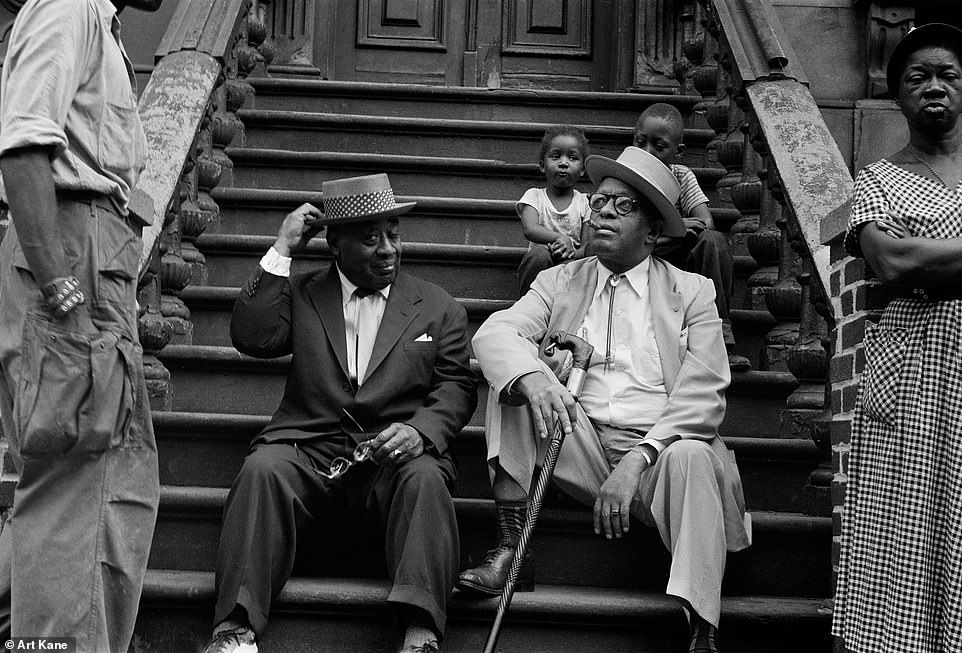 Although the main photo of all artists together is the shot that became famous, a new book - Art Kane: Harlem 1958 - for the first time reveals all of the frames snapped that day, such as this relaxed shot of Luckey Roberts and Willie 'The Lion' Smith.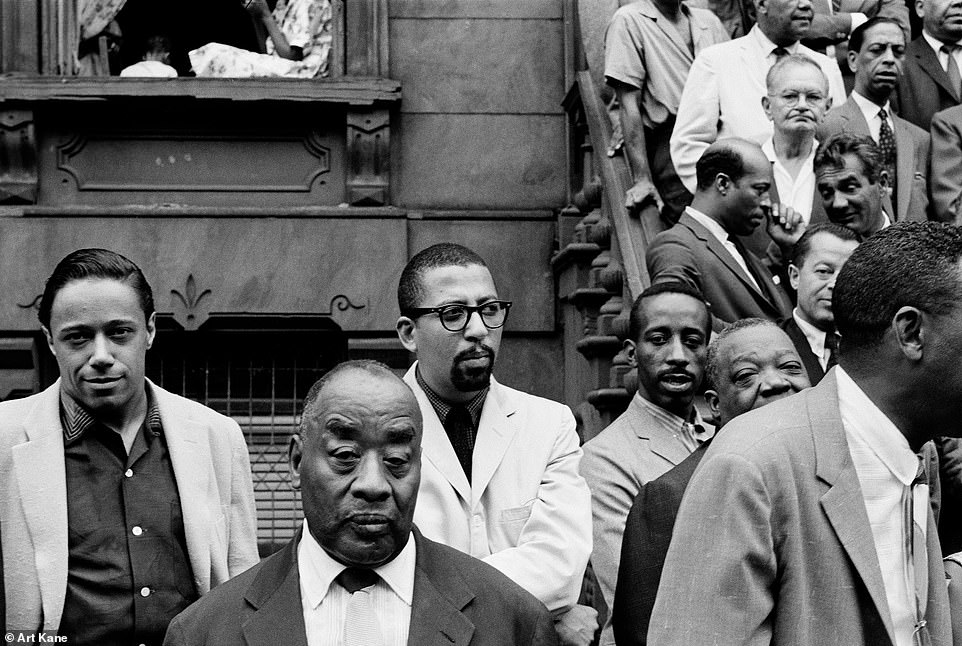 Other artists who turned up for the shoot in Harlem at 10am - an exceptionally early start time for people who made their livings in the late-night world of jazz - included, from left to right: Horace Silver, Luckey Roberts, Sahib Shihab, Eddie Locke and Jimmy Rushing.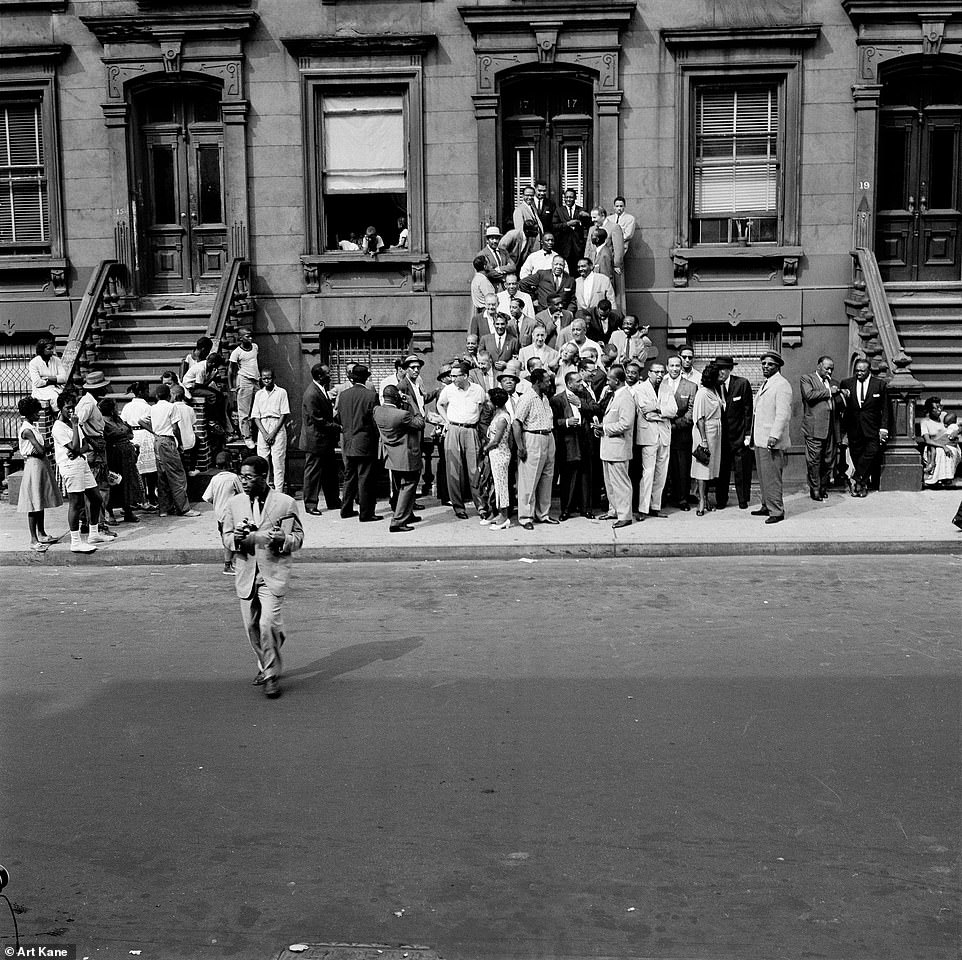 Dizzy Gillespie crosses the street with a camera as other artists chatter on East 126th Street, between Fifth and Madison Avenues, while local residents and curious children look on.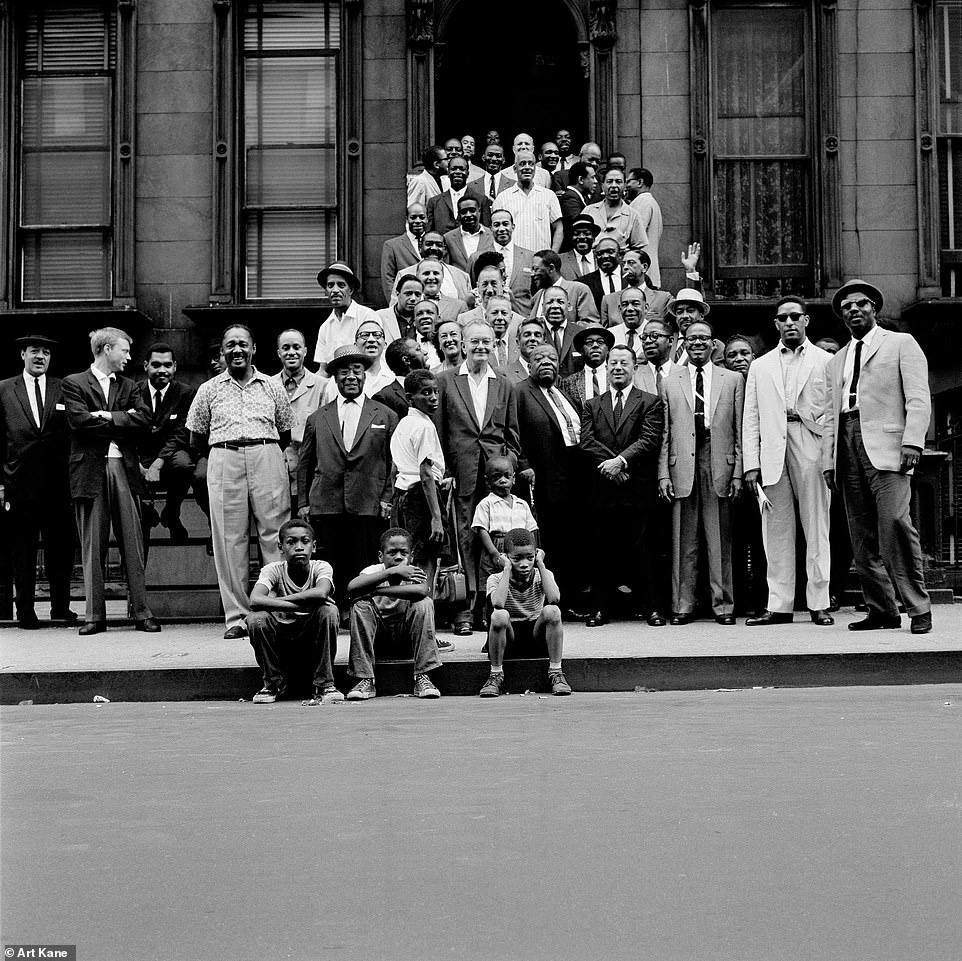 Quincy Jones, writing in the newly published book of Art Kane shots: 'During a time in which segregation was very much still a part of our everyday lives, and in a world that often pointed out our differences instead of celebrating our similarities, there was something so special and pure about gathering 57 individuals together, in the name of jazz'.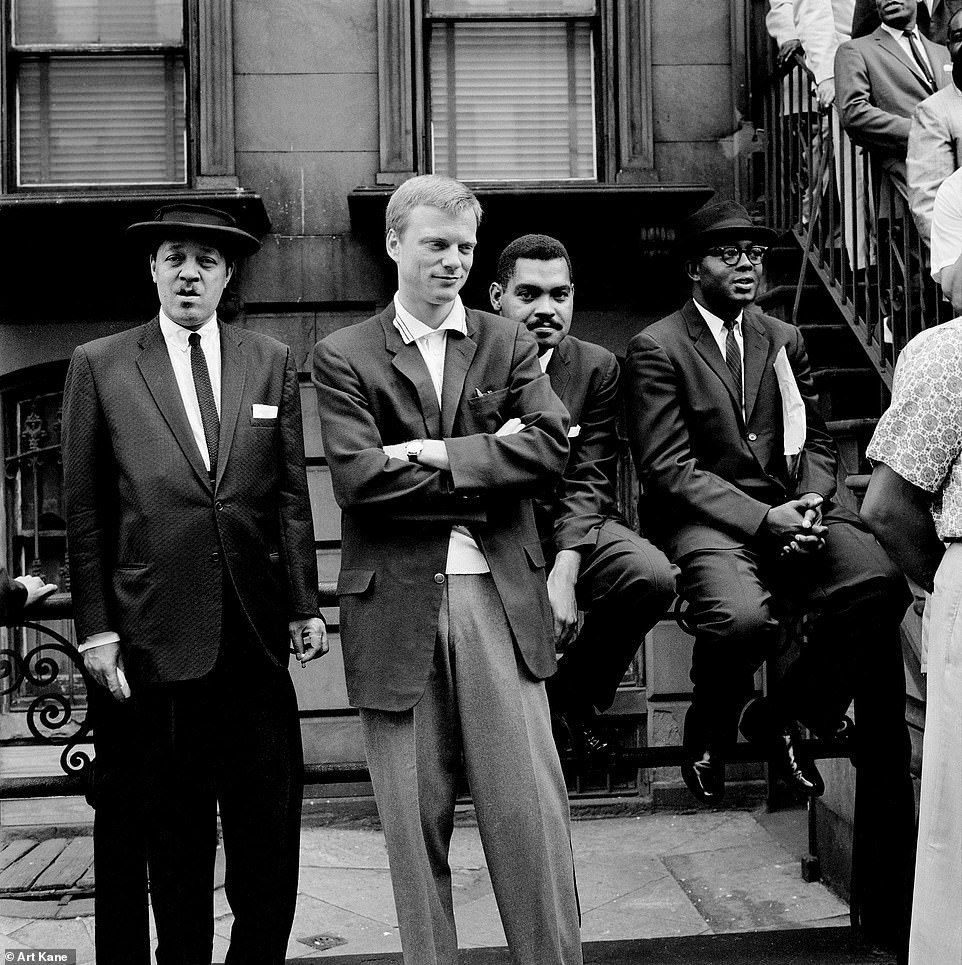 Posing, from left to right, are jazz artists Lester Young, Gerry Mulligan, Art Farmer and Gigi Gryce; Kane later said of the shoot: 'I came up with the idea of getting as many musicians together in one place as we could. It would be sort of a graduation photo or class picture of all the jazz musicians. After I thought about it some more, I decided they should get together in Harlem. After all, that's where jazz started when it came to New York'.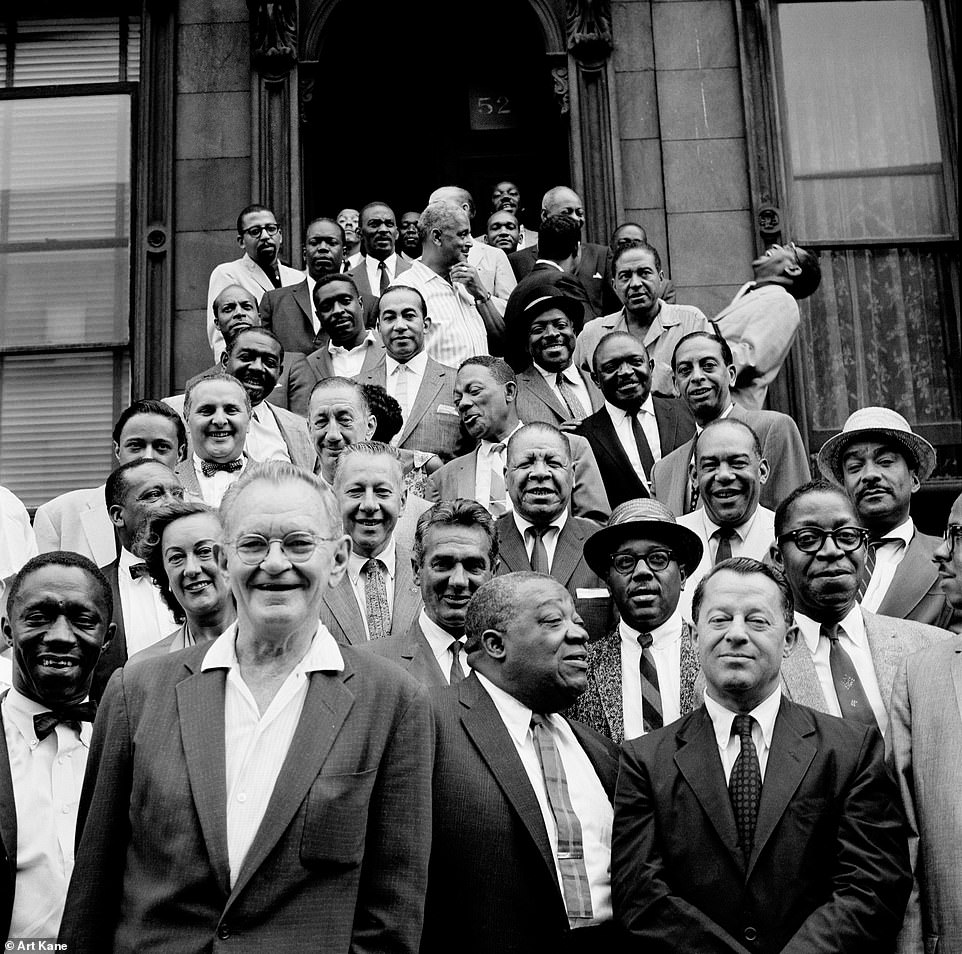 The artists may not have realized it as they gathered to pose for Kane, but the photo shoot would result in a famous and iconic picture which would inspire pop culture imitations for decades to come - while preserving a unique moment in jazz history.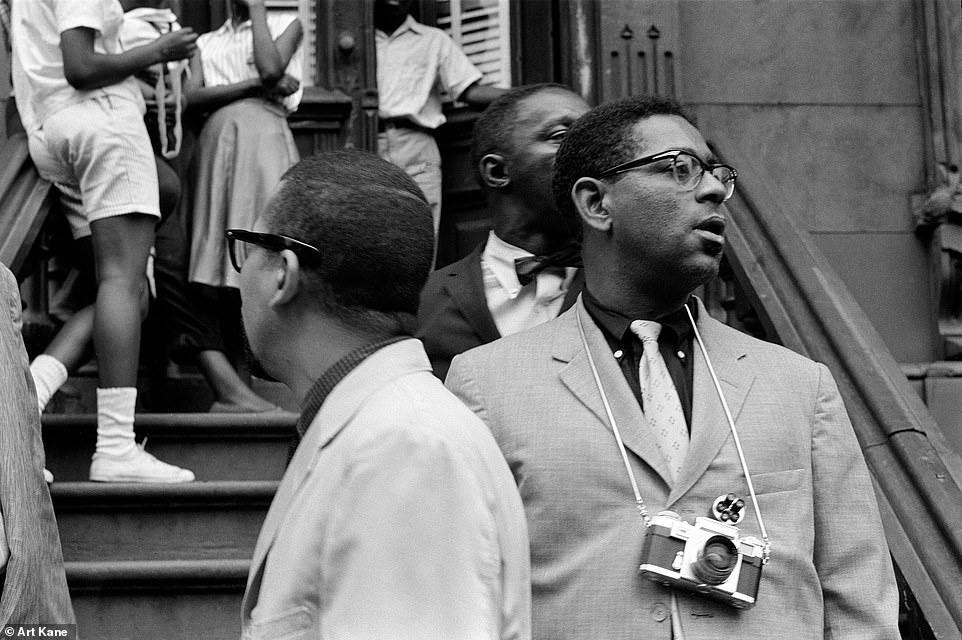 Sahib Shihab looks behind him as Dizzy Gillespie gazes across the street with a camera around his neck; the photo is published for the first time in a new 168-page book with foreword text by Quincy Jones and musician Benny Golson, as well as an introduction by the late photographer's son, Jonathan Kane.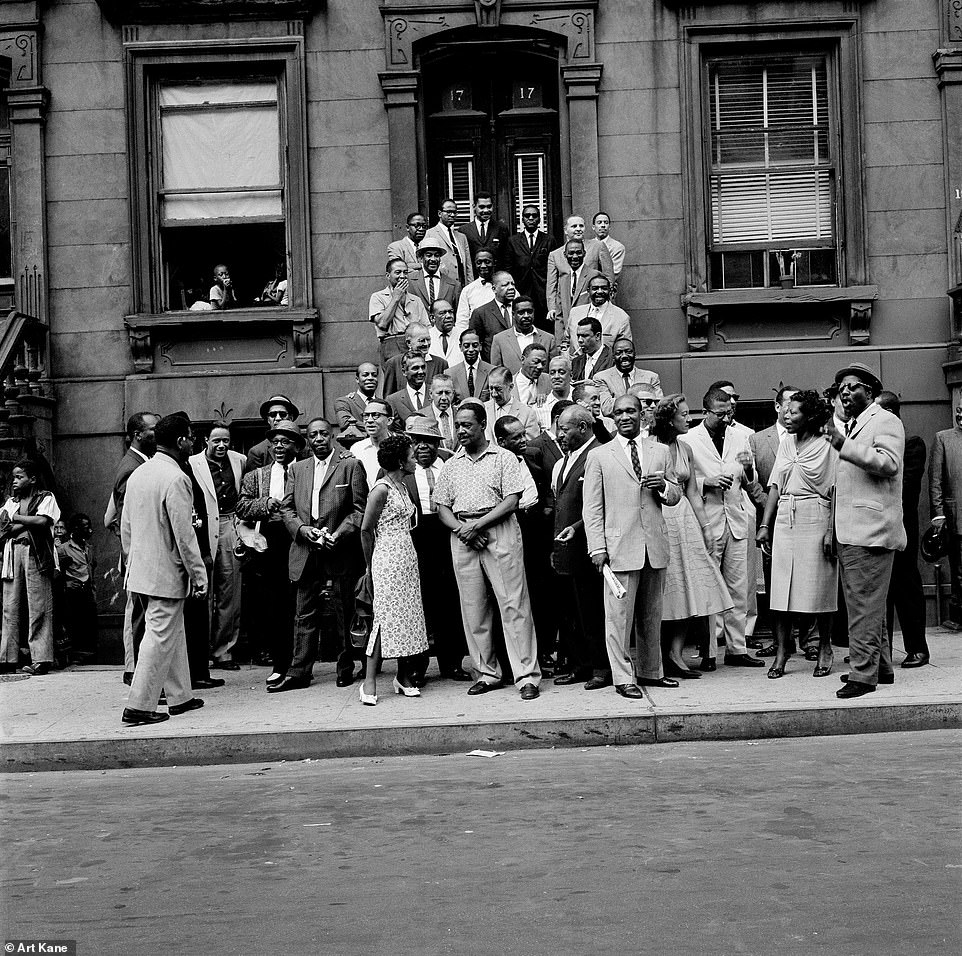 Art Kane, who snapped the frames resulting in an iconic photo that has come to be known as A Great Day in Harlem - the same name as an Oscar-nominated documentary about the 1958 shoot - took his own life in 1995.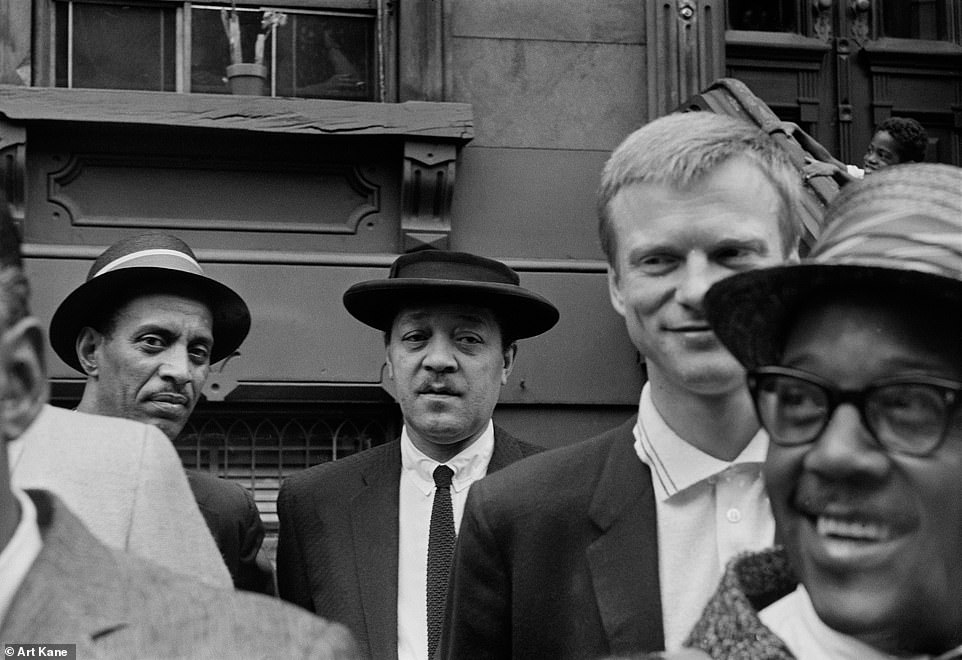 Participating artists, from left to right, were Vic Dickenson, Lester Young, Gerry Mulligan and Roy Eldridge; the newly published candid frames captured the musicians in a more relaxed and jovial light.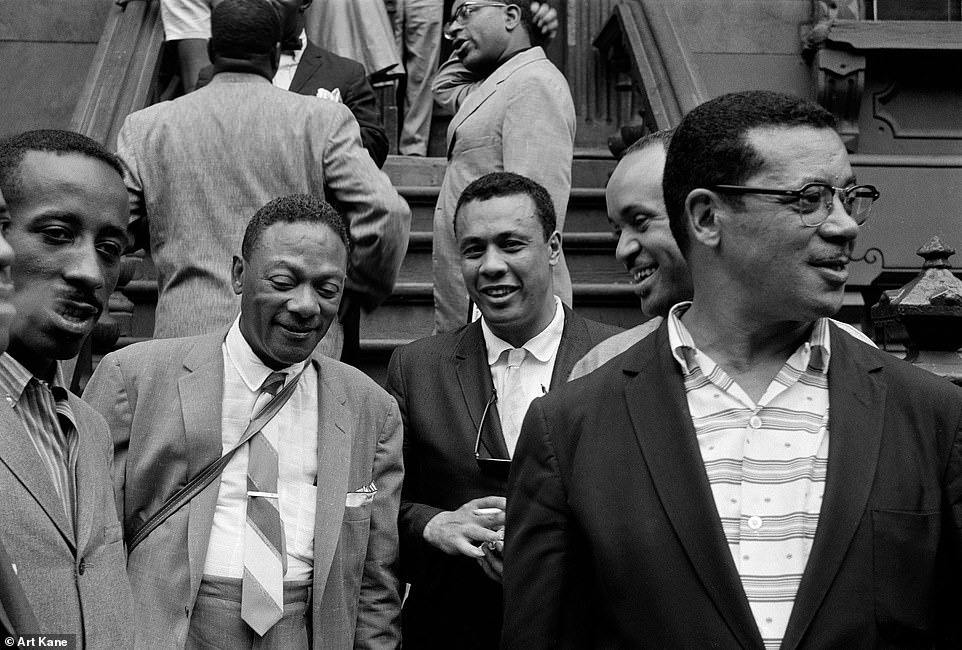 From left to right: Eddie Locke, Jay C. Higginbotham, Charles Mingus, Ernie Wilkins and Bill Crump all answered Kane's invitation to take part in the morning shoot.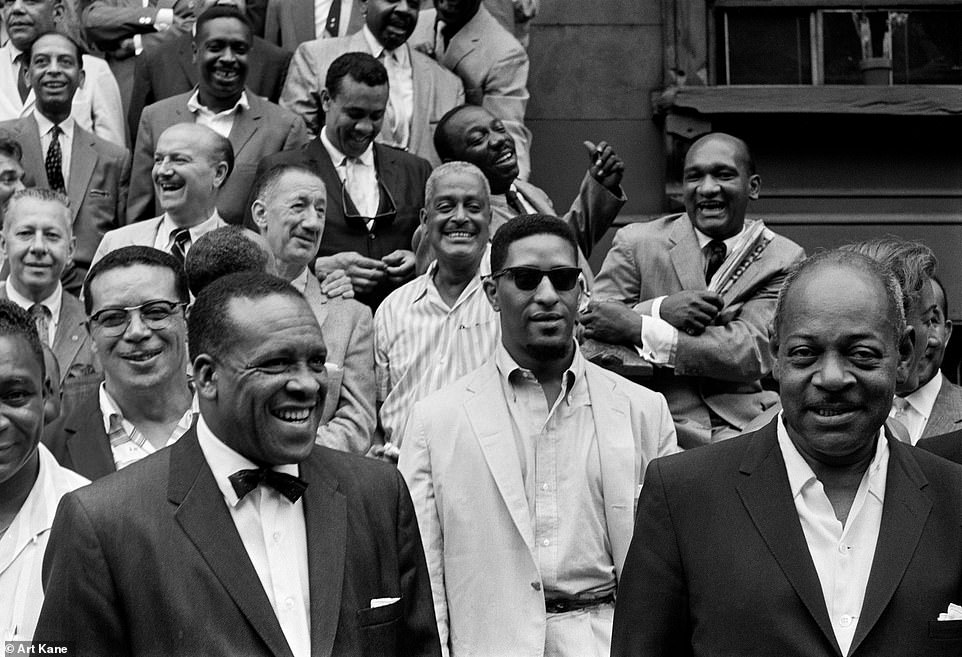 The front row of this photo shows, from left, Bill Crump, Stuff Smith, Sonny Rollins and Coleman Hawkins; At their back are George Wettling, Bud Freeman, Pee Wee Russell, Buster Bailey and Oscar Pettiford. Behind them are Sonny Greer, Jimmy Jones, Charles Mingus and Osie Johnson.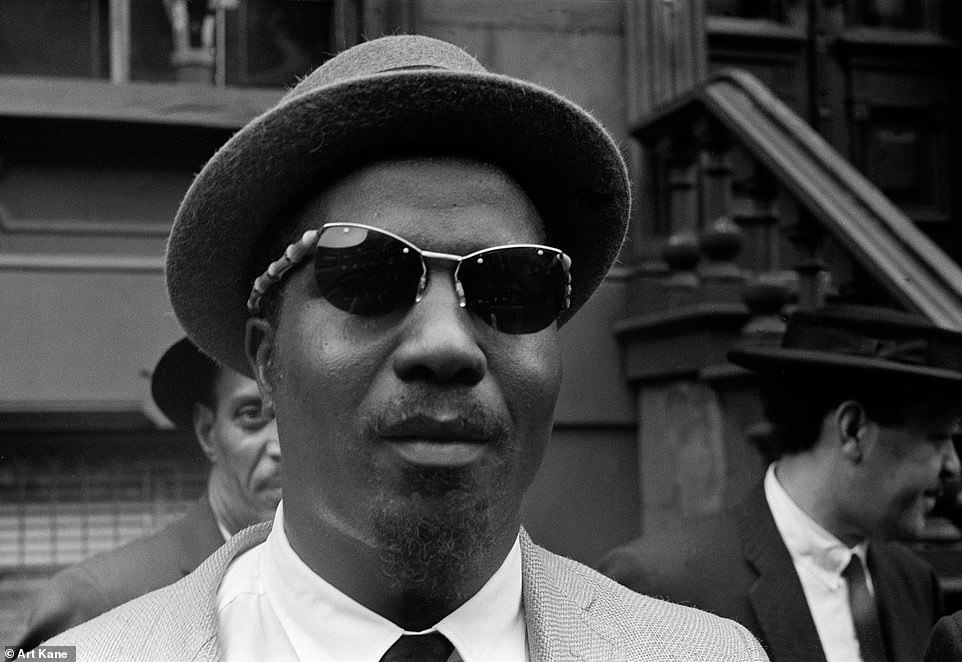 Thelonius Monk stares into the camera, while Vic Dickenson and Lester Young stand behind him as Kane tried to organize the assembled artists on that fateful summer morning - despite the hijinks and noise of local children; the photographer eventually gave up and decided to include the kids in the shoot, which is why they appear seated in the main picture.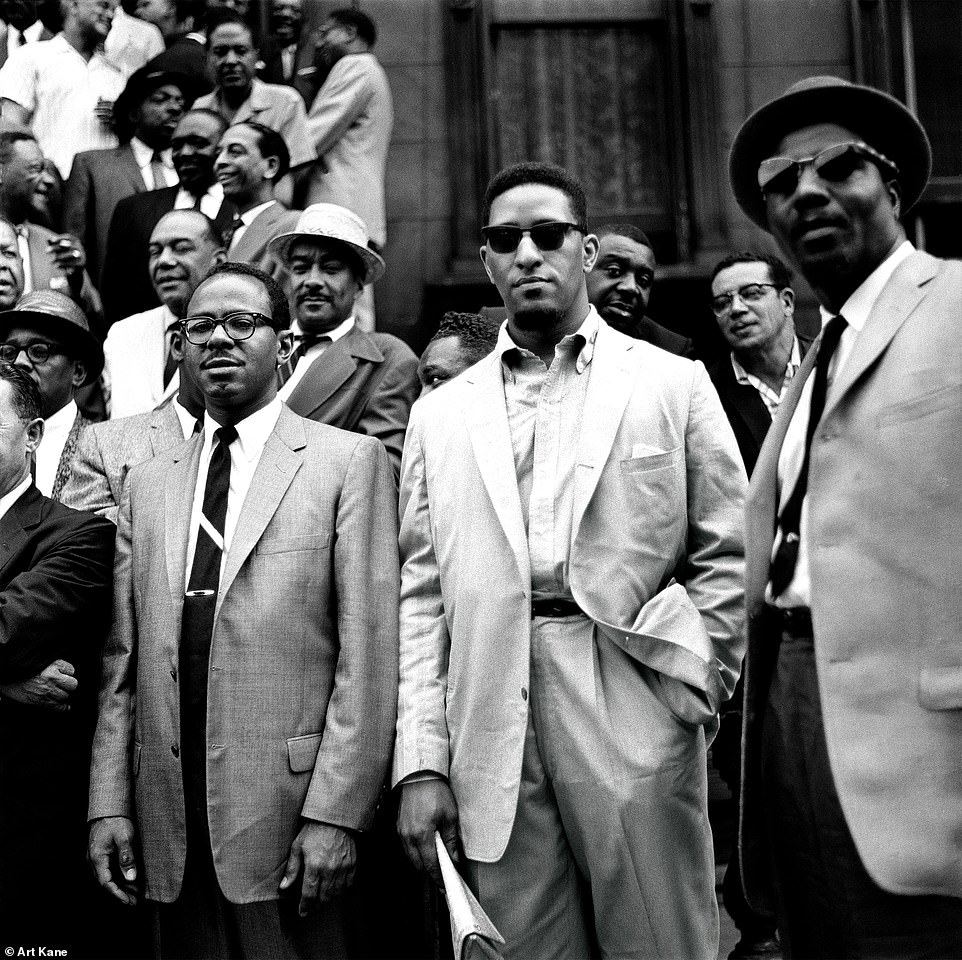 Benny Golson, far left, stands with Sonny Rollins and Thelonius Monk; Golson writes in the new book: 'There was going to be an unusual shooting of a photograph for Esquire Magazine and I was being invited to be a part of it. I couldn't believe it! Nobody really knew me that early in my career. But zippo, I was there on the intended date. When I arrived, there were all of my heroes.'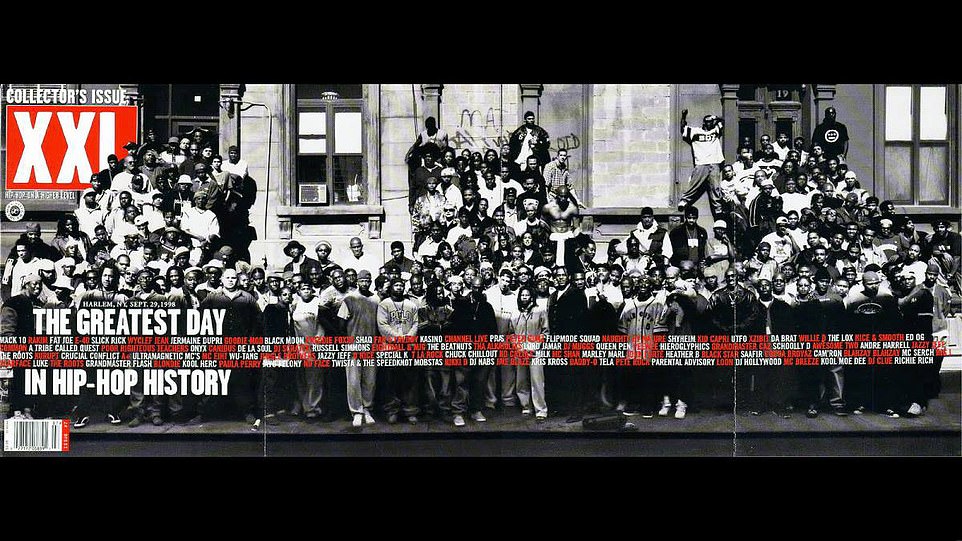 Forty years after the 1958 shoot, XXL magazine assembled modern musicians to recreate Art Kane's photo for its Collector's Issue, which it titled The Greatest Day in Hip-Hop History.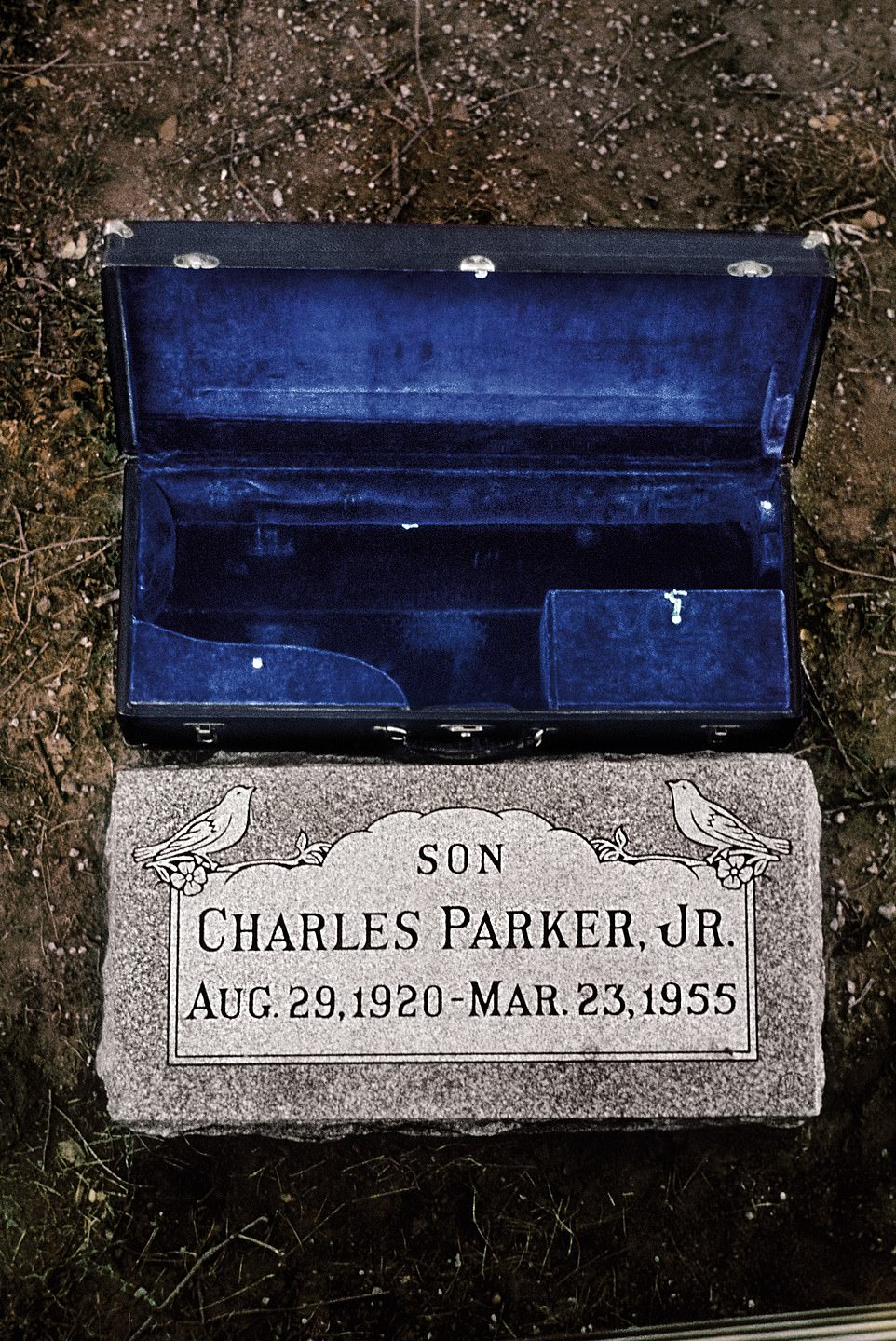 Kane - who was named photographer of the year by the American Society of Magazine Photographers in 1964 and received the organization's Lifetime Achievement Award in 1984 - is also known for a picture of Charlie Parker's grave in Kansas City.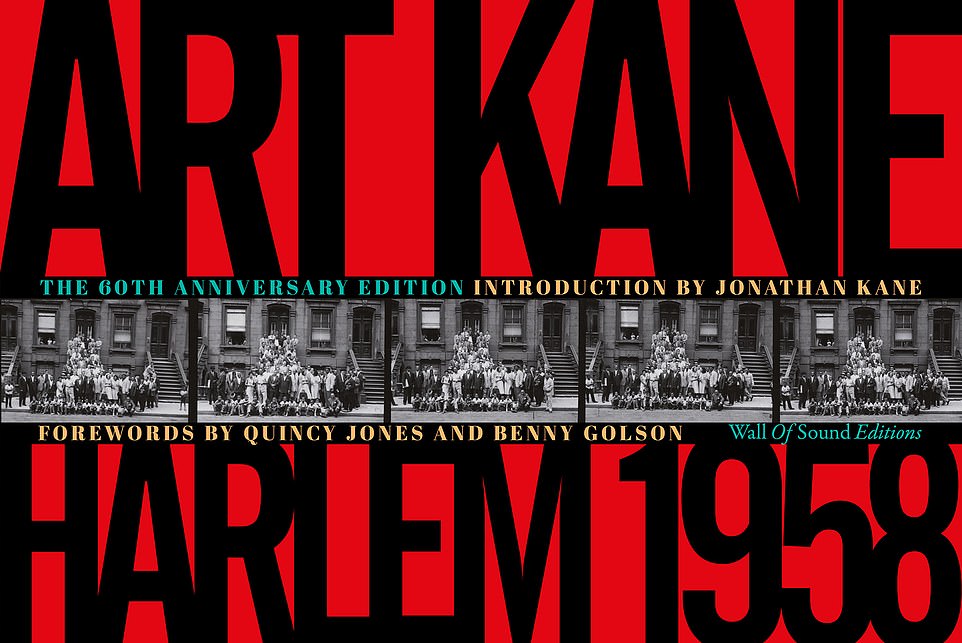 Quincy Jones writes in the new book: 'I cannot envision a more beautiful parallel for jazz and art in general; in the moment, you may not realize the impact that you have through your creations, but as this photo demonstrates, the effect and significance will outlast any lifetime. Not only is this photo important to the people in it, but it should be a reminder of where we need to be: together.'
---